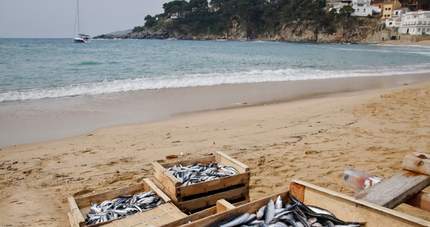 Canned Fish
Schätze des Meeres, die selbst die Apokalypse überdauern
Quality canned fish
With nearly 7,000 kilometres of coastline on the Iberian Peninsula, it is clear that the Spanish and the Portuguese have a love affair with the sea. Some of the best Spanish and Portuguese fish and seafood dishes are carefully presented in a humble can. These small gastronomic jewels are the perfect accompaniment to a glass of sherry or cava, creating an appetizer that is difficult to match.
Canned food. We unfairly associate this expression with low-quality food, fresh food is generally better than canned food, but good canned fish is a great exception to this rule. And even more so in Spain, where we have the immense good fortune of having a great canning tradition. Moreover, canned fish is healthy, very easy to eat and adapts to all kinds of recipes, such as tapas, pintxos, sandwiches, pastas and can even be eaten on its own straight from the can with a good vermouth, as is the tradition in many typical bars in Madrid and Barcelona.
There is no food that improves its virtues more than fish once canned, especially blue fish such as sardines, sardines, anchovies, tuna, bonito, mackerel or frigate tuna and some molluscs and cephalopods such as mussels, razor clams, cockles, octopus or squid.
Buy top quality canned fish
Buying quality canned fish online is easier than ever. At Colono you will find a wide selection of top quality canned fish from the best canneries in Spain and Portugal. We have more than 50 canned fish of exceptional quality, all of them made with fish and seafood from sustainable fishing, to which are added exclusively natural and healthy ingredients such as olive oil, pickled fish, sunflower oil, lemon or chilli.
Spanish preserves
Spain has a different concept of canned food to the rest of the world, with real delicatessen products. It is not a matter of canning a recipe to eat it later, but of applying different processes that raise the quality of the original product. The best example would be the salted anchovy, which acquires an incomparable flavour when cured with salt and olive oil. The taste of anchovies is much more complex and umami than that of the same fish in its fresh state.
Based on this gourmet concept of improving already exceptional products, a large canning industry has developed on both the Atlantic and Mediterranean coasts, producing authentic delicacies with the best raw material the sea has to offer.
The art of canning in the Galician Estuaries
In Galicia, fish preserves are produced in an artisan way with the seafood and fish from its famous Rías. Its canned fish is famous throughout Spain and is increasingly sought after by the most demanding foodies all over the world. You can find great preserves such as pickled mussels, baby squid in olive oil or cockles in their natural state.
White tuna
White tuna, also known as bonito del norte, is the most prized of its species for its texture and flavour. This fish is used to make preserves in olive oil such as white tuna loin and white tuna belly. It is fished with a rod so as not to damage the marine ecosystem and to ensure the survival of the species.
Cantabrian anchovies
Cantabrian anchovies are made from the loins of anchovies. They are famous for producing the best salted anchovies in the world. This is because the fish caught in these waters has a perfect balance of fat and size. When added to the expert hands of the canneries' filleters, the result is an authentic gourmet product, with a powerful and umami flavour, able to enhance any dish and perfect to be enjoyed with just a few drops of olive oil.
The world of Portuguese sardines
At Colono we specialise in canned Portuguese fish, mainly sardines or sardinhas and sardinillas or petingas. The Portuguese are true masters in the elaboration of sardines, from the choice of the best moment for their capture in the Atlantic Ocean to the artisan manipulation of the fish. They obtain what are probably the best canned sardines in the world.
Canned fish and health
Canned fish, as well as being highly nutritious food, also has benefits for heart and bone health, as it has a high protein content, fatty acids such as Omega 3 and vitamins A and D.