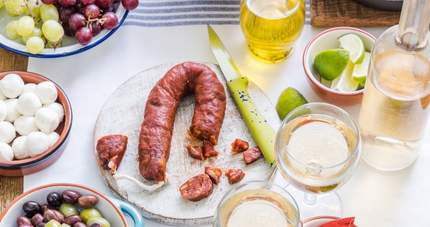 Spanish Cold Cuts
Genuss jenseits des Schinkens!
Spanish Cold Cuts
Varieties of Spanish cold cuts
At Colono we offer some of the most delicious cured meats produced in Spain. Our country is medium-sized but gigantic in terms of the gastronomic variety it offers, and when it comes to Spanish sausages there are as many types and varieties as there are regions. 

Spanish chorizo is probably the best known sausage. It is made in a wide variety of styles, sizes and curing times. It is a very versatile product with a very characteristic flavour, capable of making all kinds of recipes, such as stews, pasta, tapas or simply on the barbecue.

The lomo is not exactly a sausage, but a cut of pork (Iberian, duroc or white), specifically the loin, which is cured in natural drying sheds. It is a product more similar in texture and flavour to ham. It is made by bathing the loin in paprika and leaving it to cure for a short period of time.

Salchichón is a cured sausage similar to chorizo, but without paprika, but with black pepper instead. In Spain its popularity is on a par with chorizo and it is produced in a wide variety of formats. Fuet is a sausage similar to salchichón produced in Catalonia that is cured in natural drying sheds like Italian salami.

Sobrasada is a typical Mallorcan sausage made with pork and smoked paprika. Unlike chorizo, sobrasada is soft and is usually eaten spread on toasted bread. It can be combined with cheese or honey to create delicious recipes.

Cecina de León is a smoked cow's ham with a mildly salty taste.
Buy Spanish cold cuts
Buying Spanish sausages of the best quality online is very easy. At Colono you will find Spanish sausages made by prestigious producers both in Spain and abroad. This way you can be sure that the products you receive have been produced according to traditional methods, preserving their authentic flavour.
Tapas with Spanish cold cuts
Spanish cured meats are a fundamental part of tapas, and are usually found accompanying the classic Serrano ham or Iberian ham, Manchego cheese, Manzanilla olives and picos or regañas.