Chorizo: All about the most Spanish of sausages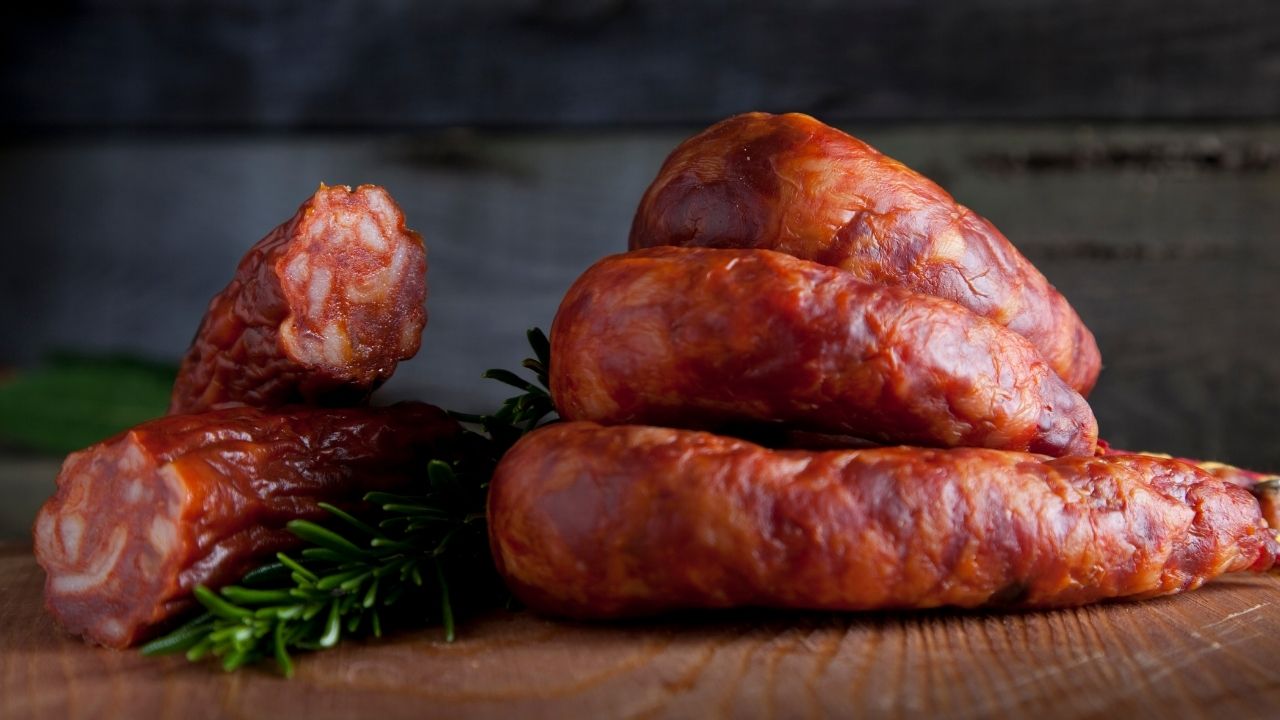 Chorizo is a typically Spanish food, very tasty and popular in many other countries. Eaten both as a tapa, accompanying potatoes and eggs, or as an essential ingredient in countless recipes, such as stews and casseroles, this sausage provides its characteristic flavour and sometimes a spicy touch.
In this article you will find interesting information about chorizo, how it is made, the most common types and some interesting facts about this Spanish sausage par excellence.

What is chorizo?
Chorizo is a fresh or cured sausage made with minced pork meat and bacon (it can also be made with beef and even game meat) that is macerated with sweet and hot paprika, chorizo peppers and other ingredients such as pepper and garlic. The deep red colour of the chorizo is due to the use of paprika from La Vera, which also gives it its characteristic smoky flavour.
How is chorizo made?
In Spain, it could be said that there is a chorizo recipe in each town or even family, as it was and is a tradition for many families to make their own sausages at the 'matanza'.
Each of these recipes uses a different mixture of spices, although the most commonly used are paprika, garlic, pepper, cumin, cumin, bay leaf, thyme and oregano.
In general, all chorizos are made following these steps:
mincing the meat and bacon.
mixing and kneading the meat with the spices.
the mixture is stuffed into natural pork casing. Occasionally this casing may be synthetic.
Curing of the pieces, which are tied together and exposed to the air in natural drying sheds with appropriate cold and humidity conditions.
Maturing of the pieces for about 50 days. Sometimes at this stage the chorizos are smoked over oak or holm oak wood.
Types of Spanish chorizo
Spanish chorizos are classified both by their level of curing and by their ingredients, but they always include paprika, which gives Spanish chorizos their bright red colour. The types of Spanish chorizo you can find are:
Iberian chorizo
This is chorizo made from Iberian pork. It has a more intense flavour than the one made with white pork. It is usually produced in the same regions where Iberian ham is produced, such as Extremadura, Jabugo, Los Pedroches and Guijuelo. It is elaborated in different formats but the predominant ones are the cular format, which are the thickest ones, and in vela format which have an intermediate thickness, between the cular chorizo and the traditional chorizo.
Chorizo riojano
Chorizo riojano is one of the typical foods of the gastronomy of La Rioja. It is made with white pork meat and has a balanced and intense flavour, where the flavour of paprika de la Vera and garlic predominates. It is one of the few chorizo sausages with the Protected Geographical Indication quality seal.
Chorizo de León
Chorizo de León is known for being smoked and having a generally spicy flavour. It is presented in the shape of a horseshoe. Chorizo de Leon is one of the most famous products of Leon's gastronomy together with the Cecina de Leon.
Chorizo from Navarra
Chorizo de Pamplona was one of the first industrialised sausages in Spain. It is made with finely chopped pork, beef and bacon. Despite its name, it is a chorizo sausage consumed almost everywhere in Spain. It is usually used to prepare sandwiches cut in thin slices.
Chorizo as an ingredient in Spanish cuisine
Chorizo is a fundamental part of traditional Spanish cuisine, being an ingredient used in numerous typical recipes in many regions. Here are some typical Spanish dishes that contain chorizo:
Huevos a la extremeña
Potatoes Rioja-style with chorizo
Fabada asturiana
Lentils with chorizo
Madrilenian stew
Migas with chorizo
Chickpeas with chorizo
Chorizo as a tapa
As well as in elaborate dishes and stews, chorizo can be found as a tapa in almost any Spanish bar. Some of the best-known tapas with chorizo are:
Chorizo in wine
Chorizo in cider
Tortilla with chorizo
Chorizo sandwich
Chorizo on a charcuterie board
Scrambled eggs with chorizo
Differences between chorizo and chistorra
Chorizo and chistorra are a similar sausage in colour and flavour, but they have several differences.
In terms of appearance, chorizo is thicker as it is usually made with pork casings, while chistorra is much thinner and is made with lamb casings.
The main difference between chorizo and chistorra comes from the curing time, while chorizo is fully cured, chistorra is a semi-cured sausage that is cured for only a few days and therefore needs to be cooked before eating.
Where to buy chorizo?
You can buy different types of chorizo in our shop specialising in Spanish sausages Colono Gourmet. You will find Iberian chorizo sausage already sliced or in vela format, packs of Serrano sausages with chorizo, ham, salchichón and loin, and Iberian chorizo jabuguitos de bellota, ideal for use as an ingredient to add flavour to all kinds of recipes.