Recipe of homemade Alicante Nougat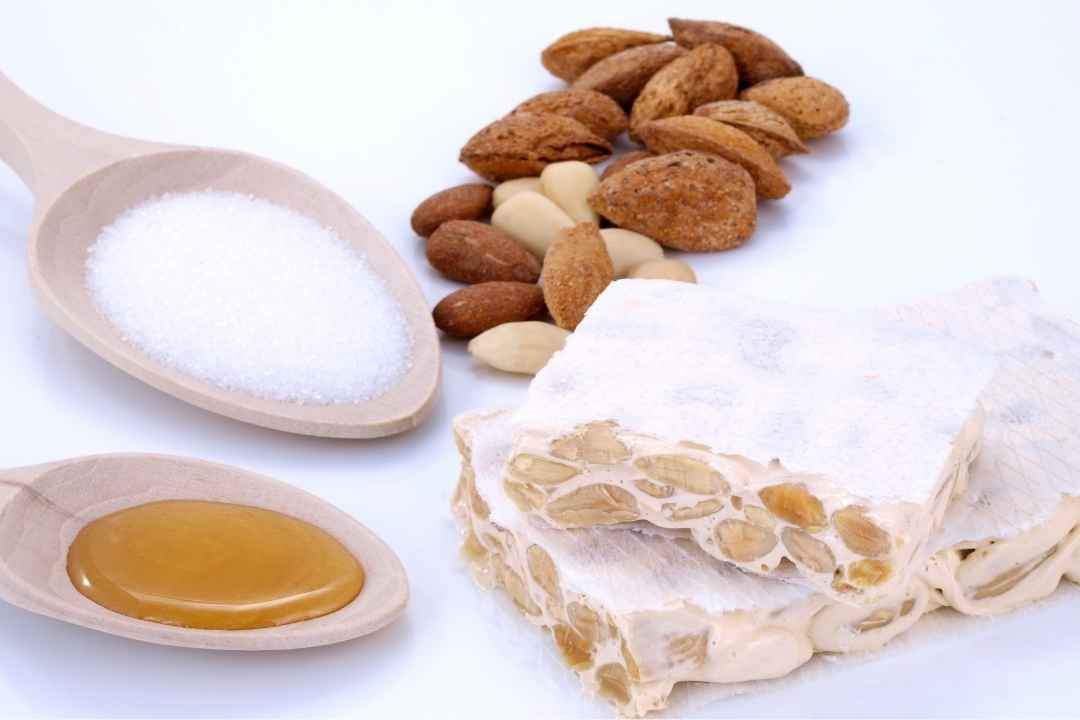 If you've come this far, it's because you probably love Turrón de Alicante and are looking for a simple way to prepare it at home. I have good news for you, because making Turrón de Alicante at home is not as complicated as you might imagine. Read on to learn how to prepare this magnificent almond and honey-based nougat in just a few easy steps.
INGREDIENTS
The most important thing that all the best Spanish artisan nougats have in common is that they are made with top quality ingredients:
Raw almonds 225 g
Honey 130 g
Sugar 100 g
1 egg white
50 g icing sugar
RECIPE FOR HOMEMADE ALICANTE NOUGAT STEP BY STEP
1. Toast the almonds in a frying pan with a pinch of oil. Never use already toasted almonds, as they are usually salted and this would affect the flavour of our Alicante nougat.
2. Put the honey in a saucepan over a medium heat for a couple of minutes until it is liquid. Add the sugar and stir vigorously until it looks like a soft caramel, then remove the pan from the heat.
3. Prepare a meringue by beating the egg white with the icing sugar. Add half of the meringue to the pan and stir to mix with the honey and sugar.
4. Spread the almonds in a rectangular mould and pour the honey, sugar and meringue mixture over them. If you don't have a mould, you can use a milk carton cut lengthwise, which measures approximately the size of a bar of nougat.
5. Place a sheet of baking paper on top of the nougat and press it flat. When cool, the nougat will be solid and creamy white in colour. Remove the turrón from the mould and it is ready to eat.
Buy nougat from Alicante
If it is difficult for you to find any of the ingredients or you don't have time to cook the turron at home, in our online shop you can buy first quality Artisan Alicante Turron and other typical Spanish turron such as Jijona Turron or Toasted Yolk Turron.